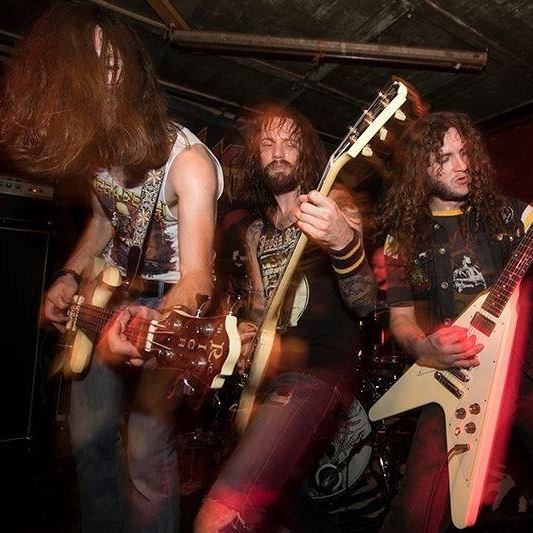 Roots Recap of 2018's Strongest Metal Debuts | on SiriusXM
Week of June 29, 2019
Sat 6/29, 6PM ET
Sun 6/30, 1PM ET
Mon 7/1, 9AM ET
Tues 7/2, 4PM ET
Thurs 7/4, 9PM ET
This week Roots recaps up the very active year 2018 and the year's rich payoff of strong debut offerings. Join us in praise of new traditionalists Haunt; black metal innovators Gaerea and Møl; death metal devils Ripped to Shreds and Morbid Illusion; doomsters Witch Ripper; metallized hardcore hitters Vein and Primal Rite; Texas melodic death metal masters Hinayana (pictured); new bands from the extreme veterans in Septic Tank and Born to Murder This World; and many others. Death to 2018—make room for new faces in 2019!
Read and share SOUND OF THE BEAST: The Complete Headbanging History of Heavy Metal, by Ian Christe.
PLAYLIST:
BORN TO MURDER THE WORLD – "Brutality Alchemist" from THE INFINITE MIRROR OF MILLENIAL NARCISSISM
SEPTIC TANK – "Treasurers of Disease" from ROTTING CIVILIZATION
RIPPED TO SHREDS – "Craven Blood" from MAI-ZANG
PRIMAL RITE – "Akumajo (Blood)" from DIRGE OF ESCAPISM
CONJURER – "Choke" from MIRE
VEIN – "Errorzone" from ERRORZONE
HINAYANA – "The Window" from ORDER DIVINE
OVATE – "Song Til Ein Orm" from OVATE
WITCH RIPPER – "The Witch" from HOMESTEAD
KHANUS – "Titan Souls" from FLAMMARION
MORBID ILLUSION – "Mutation Amputation" from IN THE CRYPT OF THE STIFLED
MØL – "Jord" from JORD
HAUNT – "Wanderlust" from BURST INTO FLAME
GAEREA – "Catharthis" from UNSETTLING WHISPERS
Roots is Sound of the Beast author and Bazillion Points publisher Ian Christe's heavy metal history show on Sirius XM Liquid Metal channel 40. Since 2004, each weekly show has examined another subgenre, band, movement, country, or theme in metal, punk, and heavy rock. Past episodes are available on-demand online from SiriusXM.com.