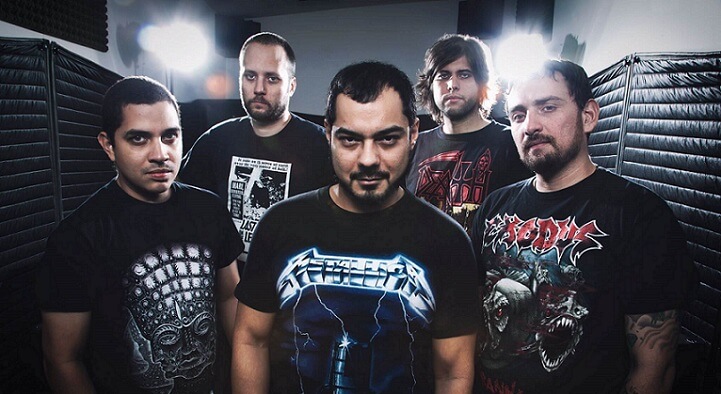 ROOTS of Central American Thrash Metal | on SiriusXM
Week of February 22, 2020
Sat 2/22, 6PM ET
Sun 2/23, 1PM ET
Mon 2/24, 9AM ET
Tues 2/25, 4PM ET
Thurs 2/27, 9PM ET
This week's metal history lesson taps the seven nations of Central America—Panama, Costa Rica, Guatemala, Honduras, Nicaragua, Belize, and El Salvador—for a frantic thrash metal free-for-all featuring newcomers Atrofia, Sadic (pictured above), Cannabica, G.O.D., Intoxicator, Witchgöat, Verge of Umbra, Apes of God, and…Morbid Angel? Prepare for fast jams from the jungle—and know your Roots!
Read up on the origins of all thrash metal in SOUND OF THE BEAST: The Complete Headbanging History of Heavy Metal, by Roots host Ian Christe.
PLAYLIST:
SADIC (Panama) – "Blood Spattered Bride" from THRASH SLASHIN METAL EP
CHEMICIDE (Costa Rica) – "Inequality" from INEQUALITY
ATROFIA (Panama) – "Programado Para el Caos" from PROGRAMADOS PARA EL CAOS
METAL REQUIEM (Guatemala) – "Slaves of Violence" from UNORTHODOX
CANNABICA (Guatemala) – "Como Engranes" from CRUST-OVER
G.O.D. (Honduras) – "New World Devastation" from DAWN OF A NEW WORLD
APES OF GOD (El Salvador) – "Empty Hell" from PROCESSION OF DEATH
BRAIN DAMAGE (Costa Rica) – "Prisoners by Alcohol" from WHY SO SOBER?
INTOXICATOR (Nicaragua) – "Mosh" from DEMO 2014
CONCEIVED BY HATE (El Salvador) – "Crossroad of Fire" from DEATH & BEYOND
WITCHGÖAT (El Salvador)- "Umbra Regit" from EGREGORS OF THE BLACK FAITH
MORBID ANGEL (Florida) – "Maze of Torment" from LIVE
VERGE OF UMBRA (Belize) – "Chaos Sequence" from V.O.U.
Roots is Sound of the Beast author (and Bazillion Points publisher) Ian Christe's heavy metal history show on Sirius XM Liquid Metal channel 40. Since June 2004, each weekly show has examined another subgenre, band, movement, country, or theme in metal, punk, and heavy rock. The show is available on-demand online from SiriusXM.com.