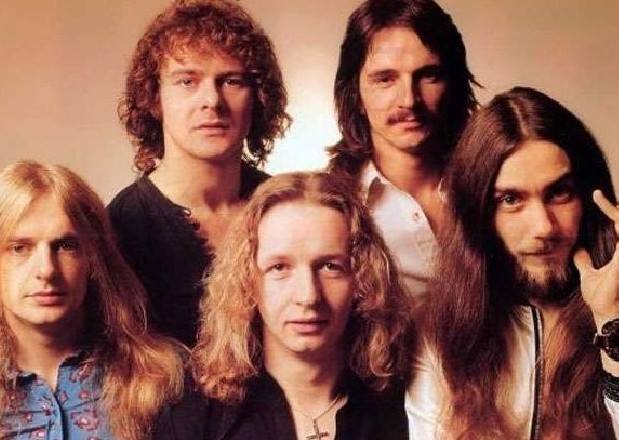 Roots of Muscular Mid-1970s Metal | 50 Years of Metal on SiriusXM
Week of February 29, 2020
Sat 2/29, 6PM ET
Sun 3/1, 1PM ET
Mon 3/2, 9AM ET
Tues 3/3, 4PM ET
Thurs 3/5, 9PM ET
+ Streaming on-demand at SiriusXM.com
Our fifty-year metal anniversary year continues into the mid-1970s today, when a new breed of heavy bands carved up walls of Marshall amps with twin guitars, piercing vocals, and massive, thundering drums. Check out epic vintage heaviness by Black Sabbath, Judas Priest, Rush, Rainbow, Thin Lizzy, Scorpions, and—a glimpse of the rise of punk—Motörhead and the Dead Boys. Know your Roots!
Read up on the origins of all heavy and metallic music, from Black Sabbath to the 2000s, in SOUND OF THE BEAST: The Complete Headbanging History of Heavy Metal, by Roots host Ian Christe.
PLAYLIST:
BLACK SABBATH – "Symptom of the Universe" from SABOTAGE
SCORPIONS – "The Sails Of Charon" from TAKEN BY FORCE
JUDAS PRIEST – "Tyrant" from SAD WINGS OF DESTINY
AC/DC – "Riff Raff" from POWERAGE
RUSH – "Overture /The Temples of Syrinx" from 2112
RAINBOW – "A Light In The Black" from RISING
KISS – "Parasite" from HOTTER THAN HELL
THIN LIZZY – "Emerald" from JAILBREAK
MOTÖRHEAD – "Motörhead" from ON PAROLE
DEAD BOYS – "Sonic Reducer" from YOUNG LOUD AND SNOTTY
LED ZEPPELIN – "Achilles Last Stand" from PRESENCE
Roots is Sound of the Beast author (and Bazillion Points publisher) Ian Christe's heavy metal history show on Sirius XM Liquid Metal channel 40. Since June 2004, each weekly show has examined another subgenre, band, movement, country, or theme in metal, punk, and heavy rock. The show is available on-demand online from SiriusXM.com.