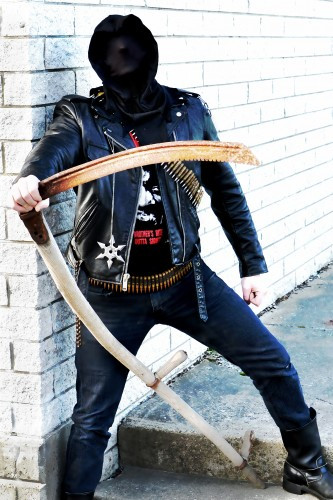 ROOTS OF ONE-MAN METAL BANDS
Week of March 21, 2020
Sat 3/21, 6PM ET
Sun 3/22, 1PM ET
Mon 3/23, 9AM ET
Tues 3/24, 4PM ET
Thurs 3/26, 9PM ET
Inspiration for your isolation! This week's show singles out the highly driven one-man metal bands whose solitary efforts have uniquely altered the arc of metal history. Check out Sweden's exalted Bathory; along with multitasking visionaries Necrophagist, Leviathan, and Thrones; brutal death metal demigods Putrid Pile, Bloodsoaked, and Insidious Decrepancy; and retro hellstormers Midnight and Toxic Holocaust. We know this show inspires a slew of new solo bands during this era of quarantine…know your Roots!
Read over a dozen interviews with Quorthon of Bathory, plus a barrage of interrogations with other one-man extreme projects, in the 750-page masterwork METALION: The Slayer Mag Diaries.
PLAYLIST:
PUTRID PILE – "The Satisfying Dead" from VIRAL LOAD SPLIT
NECROPHAGIST – "Foul Body Autopsy" from ONSET OF PUTREFACTION
MIDNIGHT – "Violence on Violence" from SATANIC ROYALTY
TOXIC HOLOCAUST – "War Is Hell" from AN OVERDOSE OF DEATH
INSIDIOUS DECREPANCY – "Tribulation" from EXTIRPATING OMNISCIENT CERTITUDE
BLOODSOAKED – "No God" from THE DEATH OF HOPE
LEVIATHAN – "The Smoke of Their Torment" from SCAR SIGHTED
AUTHOR & PUNISHER – "Terrorbird" from URSUS AMERICANUS
THRONES – "Manmtn" from SPERM WHALE
CLOUDKICKER – "We're goin' in. We're going down." from BEACONS
BATHORY – "Nordland" from NORDLAND
Roots is Sound of the Beast author Ian Christe's heavy metal history show on Sirius XM Liquid Metal channel 40. Since June 2004, each weekly show has examined another subgenre, band, movement, country, or theme. The show is available on-demand online from SiriusXM.com.