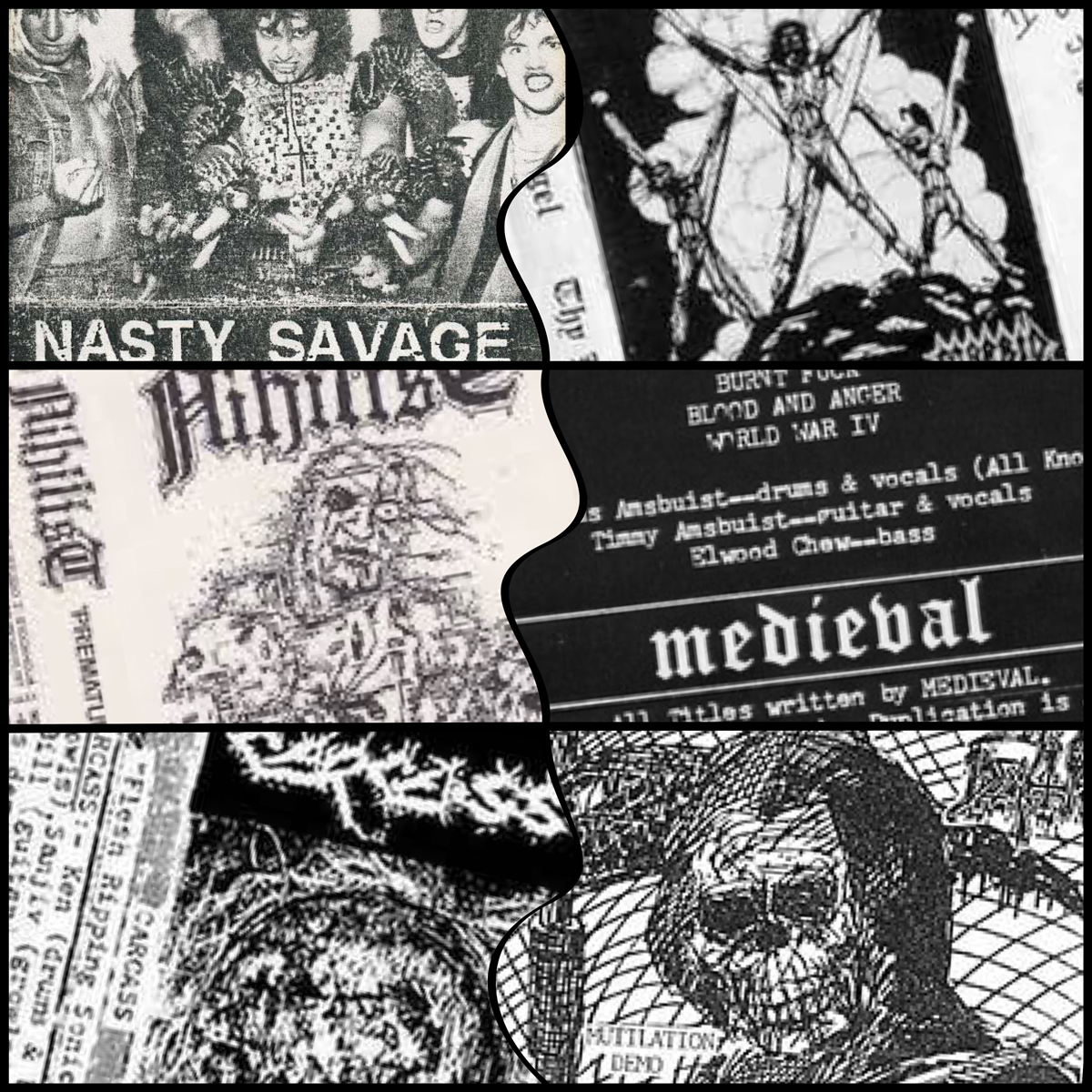 ROOTS of the 1980s Metal Demo Tape Trading Scene | on SiriusXM
Week of April 25, 2020
Sat 4/25, 6PM ET
Sun 4/26, 1PM ET
Mon 4/27, 9AM ET
Tues 4/28, 4PM ET
Thurs 4/30, 9PM ET
This week's metal history lesson cleans out the cassettes from the closet and blasts the raw energy of early demo tapes by Megadeth, Metallica, Hellhammer, Morbid Angel, Carcass, Death, Nasty Savage and others. Find out how underground metal conquered the world, traveling fan to fan, one dubbed cassette at a time, spawning and nurturing new genres in the process. Be kind, rewind, send back my stamps… and know your Roots!
Follow the death metal side of the metal tape trading scene from grimy garages to grinding greatness in The Improbable History of Death Metal & Grindcore by Albert Mudrian.
PLAYLIST:
MEGADETH – "Last Rites / Loved to Deth" from LAST RITES DEMO 1984
METALLICA – "Whiplash" from MEGAFORCE DEMO 1983
MEDIEVAL – "Hell Is Full" from ALL KNOBS TO THE RIGHT DEMO 1984
LEGACY (TESTAMENT) – "Burnt Offerings" from DEMO:1 1985
HELLHAMMER – "Messiah" from SATANIC RITES DEMO 1983
CORONER – "Spiral Dream" from DEATH CULT DEMO 1986
NIHILIST – "Supposed To Rot" from PREMATURE AUTOPSY DEMO 1988
GENOCIDE (REPULSION) – "The Stench Of Burning Death" from THE STENCH OF BURNING DEATH DEMO 1986
NECROVORE – "Slaughtered Remains" from DIVUS DE MORTUUS DEMO 1987
DEATH – "Zombie Ritual" from MUTILATION DEMO 1985
MORBID ANGEL – "Thy Kingdom Come" from THY KINGDOM COME DEMO 1987
CARCASS – "Genital Grinder" from FLESH RIPPING SONIC TORMENT DEMO 1987
AMON (DEICIDE) "Lunatic Of God's Creation" from SACRIFICIAL DEMO 1989
NASTY SAVAGE – "XXX" from WAGE OF MAYHEM DEMO 1984
Roots is Sound of the Beast author Ian Christe's heavy metal history show on Sirius XM Liquid Metal channel 40. Since June 2004, each weekly show has examined another subgenre, band, movement, country, or theme. The show is available on-demand online from SiriusXM.com.