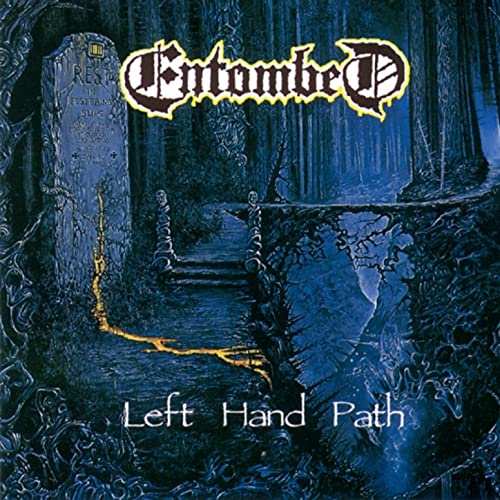 ROOTS Walks Thirty Years of Entombed's LEFT HAND PATH | on SiriusXM
Week of June 6, 2020
Sat 6/6, 6PM ET
Sun 6/7, 1PM ET
Mon 6/8, 9AM ET
Tues 6/10, 4PM ET
Thurs 6/12, 9PM ET
On the sixth hour of the sixth day of the sixth month of 2020, we herald the thirty-year anniversary of LEFT HAND PATH, the debut masterpiece by Swedish death metal masters ENTOMBED. Join us as we plunge into the dark majesty of tracks from the record; early demos; pre-Entombed music by Nihilist; tracks by associates in Carnage, Carbonized, and Unleashed; plus tributes by Exumer, Aborted, and the pre-Ghost band Repugnant. You are your own god… know your Roots!
Read and rot! The story of Entombed plus 500 other Swedish death metal greats: Swedish Death Metal by Daniel Ekeroth.
PLAYLIST
ENTOMBED – "Left Hand Path" from LEFT HAND PATH
ENTOMBED – "But Life Goes On" from 1989 DEMO
NIHILIST – "When Life Has Ceased" from DROWNED DEMO 1989
NIHILIST – "Shreds of Flesh" from BUT LIFE GOES ON DEMO 1989
UNLEASHED – "Before the Creation of Time" from WHERE NO LIFE DWELLS
CARNAGE – "Torn Apart" from DARK RECOLLECTIONS
EXUMER – "Supposed to Rot" from HOSTILE DEFIANCE
DISMEMBER – "Override of the Overture" from LIKE AN EVERFLOWING STREAM
CARBONIZED – "Recarbonized" from FOR THE SECURITY
ABORTED – "Drowned" from THE HAEMATOBIC EP
REPUGNANT – "Carnal Leftovers" from PREMATURE BURIAL
ENTOMBED – "Stranger Aeons" from CLANDESTINE
DEATH BREATH – "Chopping Spree" from STINKING UP THE NIGHT
ENTOMBED – "Abnormally Deceased" from LEFT HAND PATH
Roots is Sound of the Beast author Ian Christe's heavy metal history show on Sirius XM Liquid Metal channel 40. Since June 2004, each weekly show has examined another subgenre, band, movement, country, or theme. The show is available on-demand online from SiriusXM.com.