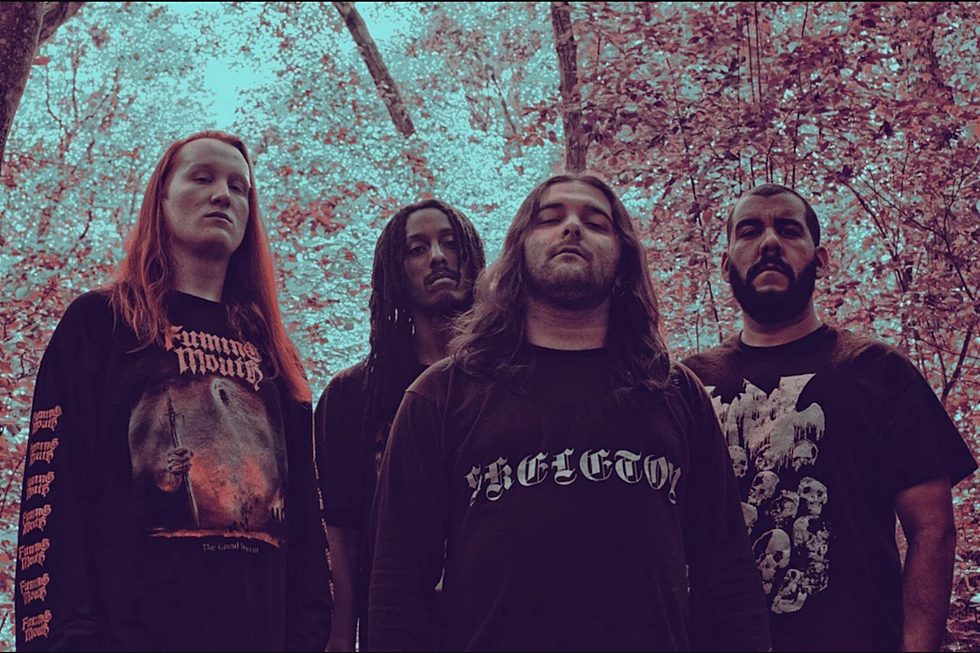 ROOTS of 2019 Metal Debuts, Part I | on SiriusXM
Week of July 25, 2020
Sat 7/25, 6PM ET
Sun 7/26, 1PM ET
Mon 7/27, 9AM ET
Tues 7/28, 4PM ET
Thurs 7/30, 9PM ET
ROOTS of 2019 Metal Debuts, Part II | on SiriusXM
Week of August 1, 2020
Sat 8/1, 6PM ET
Sun 8/2, 1PM ET
Mon 8/3, 9AM ET
Tues 8/4, 4PM ET
Thurs 8/6, 9PM ET
Join us the weeks of July 25 through August 6 for a powerful recap of outstanding 2019 metal debuts across all subgenres. These newborn bashers need our support more than ever getting their legends off the ground in 2020. Young bloods and returning veterans alike share the spotlight as we introduce Idle Hands, Creeping Death (pictured), Judiciary, Devil Master, Gaahls Wyrd, Sermon, Black Passage, Nocturnus A.D., Ithaca, Wormwitch, Paladin, Gravefields, Ossuarium, Neverending Game and more. Know your new Roots!
Return to the origins of heavy, metallic music, from Black Sabbath to today, in SOUND OF THE BEAST: The Complete Headbanging History of Heavy Metal, by Roots host Ian Christe.
PART I PLAYLIST (Week of July 25):
IDLE HANDS – "Give Me To the Night" from MANA
MANIFESTIC – "Anonymous Souls" from ANONYMOUS SOULS
CREEPING DEATH – "Bloodlust Contamination" from WRETCHED ILLUSIONS
HORNDAL – "Wasteland" from REMAINS
JUDICIARY – "Stronger Than Thou" from SURFACE NOISE
DEVIL MASTER – "Desperate Shadow" from SATAN SPITS ON CHILDREN OF LIGHT
DEVIL WITHIN – "Dark Supremacy" from DARK SUPREMACY
GAAHLS WYRD – "From the Spear" from GASTIR – GHOSTS INVITED
MUSMAHHU – "Slaughter of the Seraphim" from REIGN OF THE ODIOUS
SERMON – "The Descend" from BIRTH OF THE MARVELOUS
BLACK PASSAGE – "Left to Waste" from THE VEIL
NOCTURNUS A.D. – "Apotheosis" from PARADOX
PART II PLAYLIST (Week of August 1):
EMPYREAL – "Meant to Cease" from MY OWN LIVING HELL
FRAIL BODY – "Aperture" from A BRIEF MEMORIAM
COPPERHEAD – "Gazing in the Dark" from GAZING IN THE DARK
NEVERENDING GAME – "Every Day I Hate" from JUST ANOTHER DAY
WORMWITCH – "Dancing In The Ashes" from HEAVEN THAT DWELLS WITHIN
PALADIN – "Call of the Night" from ASCENSION
GRAVEFIELDS – "Psychoactive Rites" from EMBRACE THE VOID
INFERNAL CONJURATION – "Necrolatria" from INFERNALE METALLUM MORTIS
FETID – "Consumed Periphery" from STEEPING CORPOREAL MESS
FESTERDAY – "Kill Your Truth" from IIHTALLAN
ITHACA – "The Language of Injury" from THE LANGUAGE OF INJURY
OSSUARIUM – "Blaze of Bodies" from LIVING TOMB
FLUB – "Rise From Your Grave" from FLUB
Roots is Sound of the Beast author and Bazillion Points publisher Ian Christe's heavy metal history show on Sirius XM Liquid Metal channel 40. Launched in June 2004, each weekly show has examined another subgenre, band, movement, country, or theme in metal, punk, and heavy rock. Past episodes are available on-demand online from SiriusXM.com.