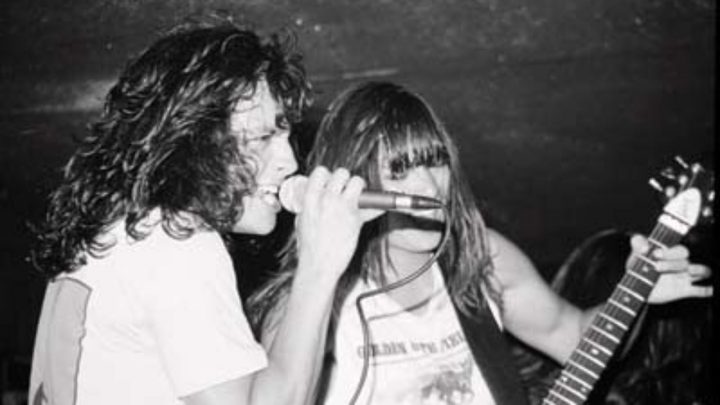 photo: Death Angel, by Harald Oimoen, from MURDER IN THE FRONT ROW
ROOTS of the Youngest Teen Metal Terrors | on SiriusXM
Week of December 5, 2020
Sat 12/5, 6PM ET
Sun 12/6, 1PM ET
Mon 12/7, 9AM ET
Tues 12/8, 4PM ET
Thurs 12/10, 9PM ET
The kids will have their say this week, with a fifty-year overview of some hugely influential young fifteen-, sixteen-, and seventeen-year-old metal musicians in the bands Sepultura, Possessed, Death, Scorpions, Def Leppard, Nihilist, Emperor, Enslaved, Decapitated, Bathory, and Alien Weaponry. Think of the children— know your Roots!
Experience the force of fifty years of heavy metal in the pages of SOUND OF THE BEAST: The Complete Headbanging History of Heavy Metal, by Roots host Ian Christe.
PLAYLIST:
DEATH ANGEL – "Kill As One" from THE ULTRAVIOLENCE
SCORPIONS – "It All Depends" from LONESOME CROW
DEF LEPPARD – "Wasted" from ON THROUGH THE NIGHT
BATHORY – "Sacrifice" from SCANDINAVIAN METAL ATTACK
DEATH – "Baptized in Blood" from INFERNAL DEATH DEMO 1985
POSSESSED – "Swing of the Axe" from METAL MASSACRE VI
SEPULTURA – "Troops of Doom" from MORBID VISIONS
NIHILIST – "When Life Has Ceased" from DROWNED DEMO 1989
EMPEROR – "I Am the Black Wizards" from EMPEROR EP 1993
ENSLAVED – "Loke" from FROST
REPUGNANT – "Repugnized" from SPAWN OF PURE MALEVOLENCE DEMO
DECAPITATED – "The Eye of Horus" from THE EYE OF HORUS DEMO 1998
ALIEN WEAPONRY – "PC Bro" from RAUPATU
Roots is Sound of the Beast author and Bazillion Points publisher Ian Christe's heavy metal history show on Sirius XM Liquid Metal channel 40. Launched in June 2004, each weekly show has examined another subgenre, band, movement, country, or theme in metal, punk, and heavy rock. Past episodes are available on-demand online from SiriusXM.com.