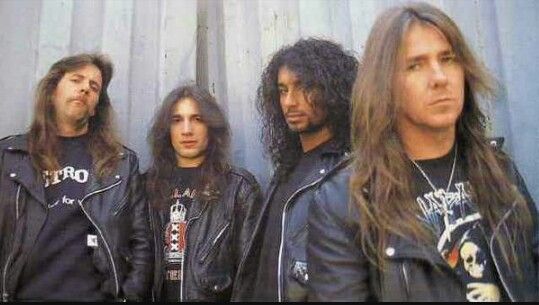 ROOTS OF DEATH/THRASH METAL | on SiriusXM LM40
Week of February 27, 2021
Sat 2/27, 6PM ET
Sun 2/28, 1PM ET
Mon 3/1, 9AM ET
Tues 3/2, 4PM ET
Thurs 3/4, 9PM ET
Explore the forbidden zone between thrash and death metal this week as host Ian Christe plunges into the tornado of death/thrash. Hectic thrash and dark, brutal death collide in tracks by Sadus, Slaughter (CA), Massacra, Demolition Hammer, early Sepultura, Hellwitch, Solstice, Pestilence, Carcinogen and others. Join us and feel no remorse as we thrash towards death!
Check out how thrash metal turned south of heaven towards death metal in the pages of SOUND OF THE BEAST: The Complete Headbanging History of Heavy Metal, by Ian Christe.
PLAYLIST:
SADUS – "Through the Eyes Of Greed" from A VISION OF MISERY
SLAUGHTER – "Nocturnal Hell" from STRAPPADO
SEPULTURA – "Beneath the Remains" from BENEATH THE REMAINS
MASSACRA – "Enjoy The Violence" from ENJOY THE VIOLENCE
DEMOLITION HAMMER – "44 Caliber Brain Surgery" from TORTURED EXISTENCE
AGRESSOR – "Elemental Decay" from NEVERENDING DESTINY
EPIDEMIC – "Circle Of Fools" from DECAMERON
SOLSTICE – "Cleansed of Impurity" from SOLSTICE
MUTANT SUPREMACY – "Rotting Season" from REINCARNATE
HELLWITCH – "Opiatic Luminance" from OMNIPOTENT CONVOCATION
PENTAGRAM CHILE – "La Fiura" from THE MALEFICE
SLAUGHTERER – "Killer Instinct" from POSSESSING VIOLENCE
PESTILENCE – "Non Physical Existent" from HADEON
CARCINOGEN – "Repossessed" from EXCORATORY SURGERY
Roots is Sound of the Beast author and Bazillion Points publisher Ian Christe's heavy metal history show on Sirius XM Liquid Metal channel 40. Launched in June 2004, each weekly show has examined another subgenre, band, movement, country, or theme in metal, punk, and heavy rock. Past episodes are available on-demand online from SiriusXM.com.