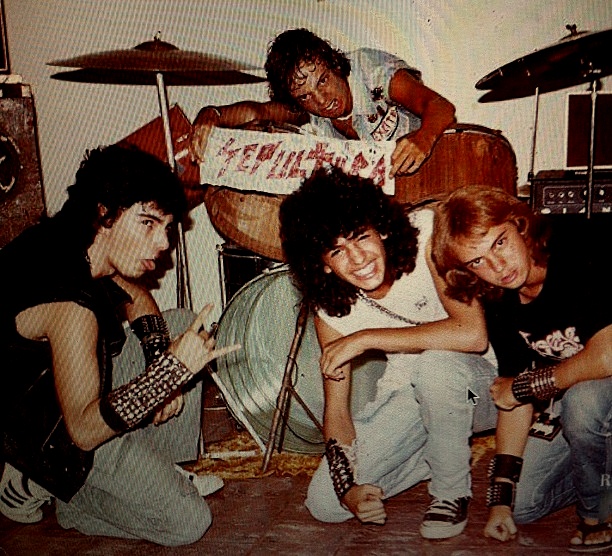 Bloody Roots of the 1980s Brazilian Metal Assault | on SiriusXM
Week of April 10, 2021
Sat 4/10, 6PM ET
Sun 4/11, 1PM ET
Mon 4/12, 9AM ET
Tues 4/13, 4PM ET
Thurs 4/15, 9PM ET
Hail Brazil! This week's ferocious metal history foray revives the passion and fury of Brazil's over-the-top frenzied headbanger invasion during the second half of the 1980s. Tracks by early Sepultura, Mutilator, Sarcophago, Dorsal Atlantica, Holocausto, Overdose, Vulcano, and more! Know your Roots!
Find your faith in heavy metal in the pages of SOUND OF THE BEAST: The Complete Headbanging History of Heavy Metal, by Roots host Ian Christe.
PLAYLIST:
SEPULTURA – "Warriors of Death" from BESTIAL DEVASTATION
ANTHARES – "Fúria" from NO LIMITE DE FORÇA
MUTILATOR – "Mutilator" from IMMORTAL FORCE
KORZUS – "Sonho Maníaco" from SONHO MANIACO
DORSAL ATLANTICA – "Tortura" from DIVIDE & CONQUER
LOBOTOMIA – "Pesadelos Agonizantes" from LOBOTOMIA
SARCÓFAGO – "Nightmare" from I.N.R.I.
HOLOCAUSTO – "Campo De Exterminio" from CAMPO DE EXTERMINIO
CHAKAL – "May Not the Mankind Suffer" from ABOMINABLE ANNO DOMINI
OVERDOSE – "Anjos do Apocalipse" from SECULO XX
VULCANO – "Spirits of Evil" from BLOODY VENGEANCE
SEPULTURA – "From the Past Comes the Storms" from SCHIZOPHRENIA
Roots is Sound of the Beast author and Bazillion Points publisher Ian Christe's heavy metal history show on Sirius XM Liquid Metal channel 40. Launched in June 2004, each weekly show has examined another subgenre, band, movement, country, or theme in metal, punk, and heavy rock. Past episodes are available on-demand online from SiriusXM.com.