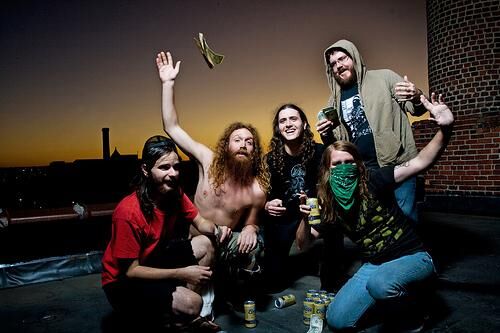 ROOTS OF SLUDGE METAL on SIRIUSXM LM40
Week of May 15, 2021
Sat 5/15, 6PM ET
Sun 5/16, 1PM ET
Mon 5/17, 9AM ET
Tues 5/18, 4PM ET
Thurs 5/20, 9PM ET
Breathe deep and fill your syrupy lungs this week with the oozing jalapeño honey of sludge metal masters including Black Sabbath, Melvins, Celtic Frost, Dream Death, Obituary, Neurosis, Autopsy, Eyehategod, and Inter Arma (pictured). From the sticky lava pits to the satellites and back —know your Roots!
Soak in the sludge, and all other beautiful varieties of metal in Sound of the Beast: The Complete Headbanging History of Heavy Metal. 
PLAYLIST:
MELVINS – "Night Goat" from HOUDINI
BLACK SABBATH – "Lord of This World" from MASTER OF REALITY
CELTIC FROST – "Procreation of the Wicked" from MORBID TALES
DREAM DEATH – "The Elder Race" from JOURNEY INTO MYSTERY
JIM JONES AND THE KOOL-ADE KIDS – "Force of Habit" from TRUST ME
MEDIEVAL – "Medieval" from METAL MASSACRE 4
OBITUARY – "Slow Death" from FROZEN IN TIME
RABIES CASTE – "Got It From Blake" from LET THE SOUL OUT AND CUT THE VEIN
NEUROSIS – "Eye" from THROUGH SILVER IN BLOOD
ACID BATH – "Toubabo Koomi" from WHEN THE KITE STRING POPS
AUTOPSY – "In the Grip of Winter" from MENTAL FUNERAL
EYEHATEGOD – "$30 Bag" from TAKE AS NEEDED FOR PAIN
INTER ARMA – "Citadel" from SULPHUR ENGLISH
Roots is Sound of the Beast author Ian Christe's heavy metal history show on Sirius XM Liquid Metal channel 40. Since June 2004, each weekly show has examined another subgenre, band, movement, country, or theme. The show is available on-demand online from SiriusXM.com.