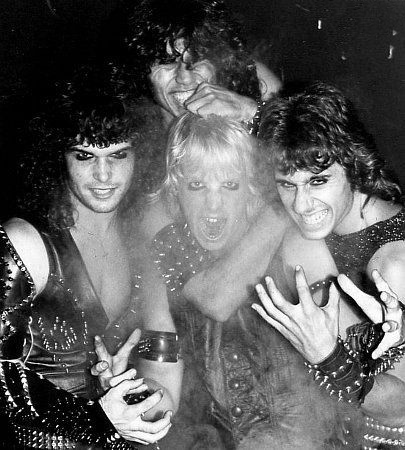 ROOTS OF THE FIRST BABY STEPS OF METAL GIANTS on SIRIUSXM LM40
Week of May 22, 2021
Sat 5/22, 6PM ET
Sun 5/23, 1PM ET
Mon 5/24, 9AM ET
Tues 5/25, 4PM ET
Thurs 5/27, 9PM ET
Every band must start somewhere, and this week we trace metal history through the first releases by future titans from the beginning of metal to today. Checking out how numerous legends began, we delve into the inspirational origins and goliath baby steps of Slayer (pictured), Black Sabbath, Judas Priest, Iron Maiden, Sepultura, Napalm Death, Pantera, At the Gates, Behemoth, Lamb of God, Gojira, and more. Know your Roots!
Soak up the history of heavy metal itself, from baby steps to giant leaps, in Sound of the Beast: The Complete Headbanging History of Heavy Metal, by Roots host Ian Christe.
PLAYLIST:
BLACK SABBATH – "Evil Woman" from EVIL WOMAN 7″
JUDAS PRIEST – "Never Satisfied" from ROCKA ROLLA
MOTORHEAD – "Leaving Here" from ON PAROLE
IRON MAIDEN – "Burning Ambition" from RUNNING FREE
METALLICA – "The Mechanix" from NO LIFE TIL LEATHER
SLAYER – "Show No Mercy" from SHOW NO MERCY
ANTHRAX – "Howling Furies" from SOLDIERS OF METAL
SEPULTURA – "Mayhem" from MORBID VISIONS
NAPALM DEATH – "Control" from SCUM
PANTERA – "Metal Magic" from METAL MAGIC
AT THE GATES – "Windows" from THE RED IN THE SKY IS OURS
BEHEMOTH – "Pure Evil and Hate" from AND THE FORESTS DREAM ETERNALLY
ARCH ENEMY – "Bury Me an Angel" from BLACK EARTH
BURN THE PRIEST – "Suffering Bastard" from BURN THE PRIEST
GOJIRA – "Clone" from TERRA INCOGNITA
Roots is Sound of the Beast author Ian Christe's heavy metal history show on Sirius XM Liquid Metal channel 40. Since June 2004, each weekly show has examined another subgenre, band, movement, country, or theme. The show is available on-demand online from SiriusXM.com.