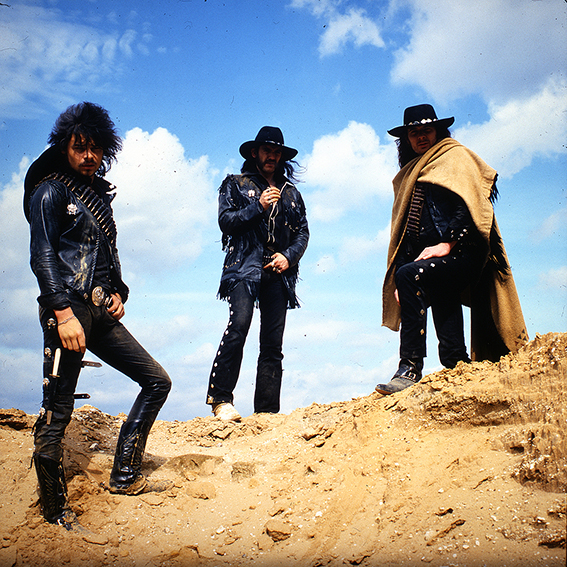 ROOTS Doubles Down on Forty Years of Motörhead's Ace of Spades | on SiriusXM
Week of May 29, 2021
Sat 5/29, 6PM ET
Sun 5/30, 1PM ET
Mon 5/31, 9AM ET
Tues 6/1, 4PM ET
Thurs 6/3, 9PM ET
November 8 marks the 40th anniversary of Motörhead's Ace of Spades, one of the most raw, blazing, and significant records in heavy metal and rock 'n' roll history. Join us for a full track-by-track replay of the record, complete with alternate takes, B-sides, and tributes by Sodom, Destruction, Abbath, and Warbringer. In memory of Lemmy Kilmister, "Fast" Eddie Clarke, and Philthy "Animal" Taylor of the golden era Motörhead band.
Experience the full heavy metal onslaught of 1980 in the pages of SOUND OF THE BEAST: The Complete Headbanging History of Heavy Metal, by Roots host Ian Christe.
PLAYLIST:
MOTÖRHEAD U.S.A. – "Ace Of Spades" from ACE OF SPADES
SODOM – "Ace Of Spades" from EPITOME OF TORTURE
NEKROFILTH – "Love Me Like A Reptile" from LOVE ME LIKE A REPTILE
BÖMBERS – "Shoot You In The Back" from LIVE AT FLYTTEN
MOTÖRHEAD – "Live To Win (2020 Master)" from ACE OF SPADES
MOTÖRHEAD – "Fast And Loose (Alternate)" from ACE OF SPADES
WARBRINGER – "(We Are) The Road Crew" from WORLDS TORN ASUNDER
DEMOLIZER – "Fire, Fire" WITCH BITCH
LEMMY & WENDY O. WILLIAMS – "Jailbait" from LIVE
MOTÖRHEAD – "Dance" from ACE OF SPADES
MOTÖRHEAD – "Bite The Bullet, The Chase Is Better Than The Catch" from LIVE IN SESSION OCTOBER 1981
DESTRUCTION – "The Hammer" from THE BIG TEUTONIC FOUR
LEMMY PHILTHY FAST EDDIE – "Dirty Love" from SINGLE
MOTÖRHEADGIRLSCHOOL – "Please Don't Touch" from ST. VALENTINE'S DAY MASSACRE
MOTÖRHEADGIRLSCHOOL – "Emergency" from ST. VALENTINE'S DAY MASSACRE
Roots is Sound of the Beast author and Bazillion Points publisher Ian Christe's heavy metal history show on Sirius XM Liquid Metal channel 40. Launched in June 2004, each weekly show has examined another subgenre, band, movement, country, or theme in metal, punk, and heavy rock. Past episodes are available on-demand online from SiriusXM.com.