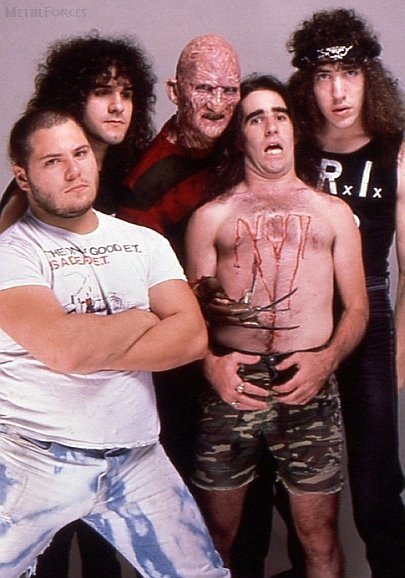 ROOTS of Horror Movie-Inspired Metal | on SiriusXM
Week of October 30, 2021
Sat 10/30, 6PM ET
Sun 10/31, 1PM ET
Sun 10/31, 8PM ET
Mon 11/1, 12AM ET
Mon 11/1, 9AM ET
Tues 11/2, 4PM ET
Thurs 11/4, 9PM ET
It's an hour of metal history pulled from the cauldron specifically for the Halloween season. Prepare for blood-curdling screams, movie samples, and shocking themes, as we delve into the dark underworld of horror movie-inspired metal by Entombed, Ghost, Testament, Mortician, Possessed, Cathedral, Ghoul, Necrophagia, Hooded Menace, Rotting Christ, S.O.D., and other frightss. Bark at the moon——and know your Roots!
Penetrate your skull with years of nocturnal mischief and mayhem in the all-knowing pages of  HEAVY METAL MOVIES: Guitar Barbarians, Mutant Bimbos & Cult Zombies Amok in the 666 Most Ear- and Eye-Ripping Big-Scream Films Ever!by Mike "McBeardo" McPadden. 
PLAYLIST:
POSSESSED – "The Exorcist" from SEVEN CHURCHES
CATHEDRAL – "Hopkins (The Witchfinder General)" from HOPKINS EP
S.O.D. – "Freddy Kreuger" from SPEAK ENGLISH OR DIE
GHOUL – "Blood Feast" from TRANSMISSION ZERO
MORTICIAN – "Driller Killer" from HOUSE BY THE CEMETERY
TESTAMENT – "The Haunting" from FIRST STRIIKE STILL DEADLY
LIK – "Faces of Death" from MISANTHROPIC BREED
GHOST – "Mummy Dust" from MELIORA
DEICIDE – "Dead by Dawn" from AMON: FEASTING THE BEAST
LAAZ ROCKIT – "Leatherface" from TEXAS CHAINSAW MASSACRE III
NECROPHAGIA – "Cannibal Holocaust" from CANNIBAL HOLOCAUST
HOODED MENACE – "Those Who Absorb The Night" from THE TRITONUS BELL
ENTOMBED – "Hellraiser" from HOLLOWMAN
ROTTING CHRIST – "Black Sabbath" from SABBATH CADABRA
Roots is Sound of the Beast author Ian Christe's heavy metal history show on Sirius XM Liquid Metal channel 40. Since June 2004, each weekly show has examined another subgenre, band, movement, country, or theme. The show is available on-demand online from SiriusXM.com.