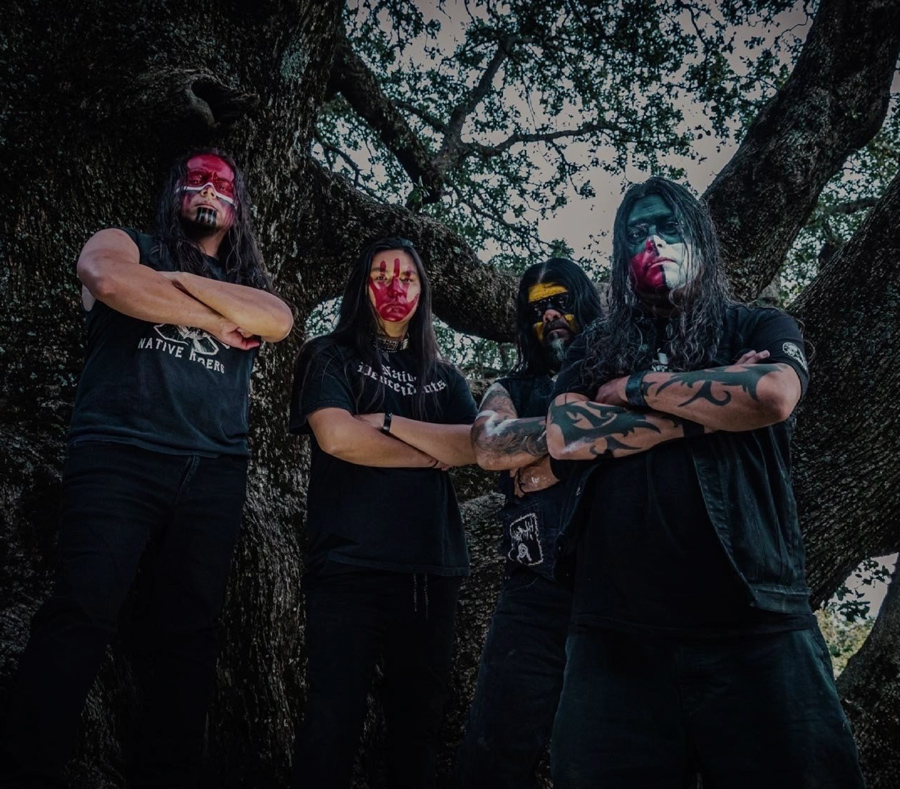 ROOTS OF NATIVE AMERICAN METAL | on SiriusXM
Thanksgiving Week of November 25, 2021
Thurs 11/25, 9PM ET
Sat 11/27, 6PM ET
Sun 11/28, 1PM ET
Mon 11/29, 9AM ET
Tues 11/30, 4PM ET
Thurs 12/2, 9PM ET
This week we celebrate Native American metal bands from tribes across North America, reprinting a wide range of metal styles including death metal, black metal, metalcore, traditional heavy metal, and thrash. Music by Warpath (pictured above), Belladonna, Nechochwen, Graves of the Monuments, Blue Hummingbird on the Left, Testament, Pan-Amerikan Native Front, and others. Know your history, know your Roots!
Read  SOUND OF THE BEAST: The Complete Headbanging History of Heavy Metal, by Ian Christe. 
PLAYLIST
WARPATH – "No Mercy" from WARPATH 2019
BELLADONNA – "Injun" from BELLADONNA
ETHNIC DE GENERATION – "Self-Infliction" from MILE POST 398
RESISTANT CULTURE – "Beneath the Concrete" from ALL ONE STRUGGLE
MI'GAUSS – "Akumon" from OPEN SEASON
SIX MILLION DEAD – "God, Greed, and Genocide" from GOD, GREED, and GENOCIDE
NECHOCHWEN – "Kanawha Black" from KANAWHA BLACK
BLUE HUMMINGBIRD ON THE LEFT – "Camino de Guerra" from KALLATHON SPLIT
PAN-AMERIKAN NATIVE FRONT – "Battle of the Wabash" from LITTLE TURTLE'S WAR
TESTAMENT – "Trail of Tears" from LIVE AT THE FILLMORE
GRAVES OF THE MONUMENTS – "Dying Language" from 2021
Roots is Sound of the Beast author Ian Christe's heavy metal history show on Sirius XM Liquid Metal channel 40. Since June 2004, each weekly show has examined another subgenre, band, movement, country, or theme. The show is available on-demand online from SiriusXM.com.