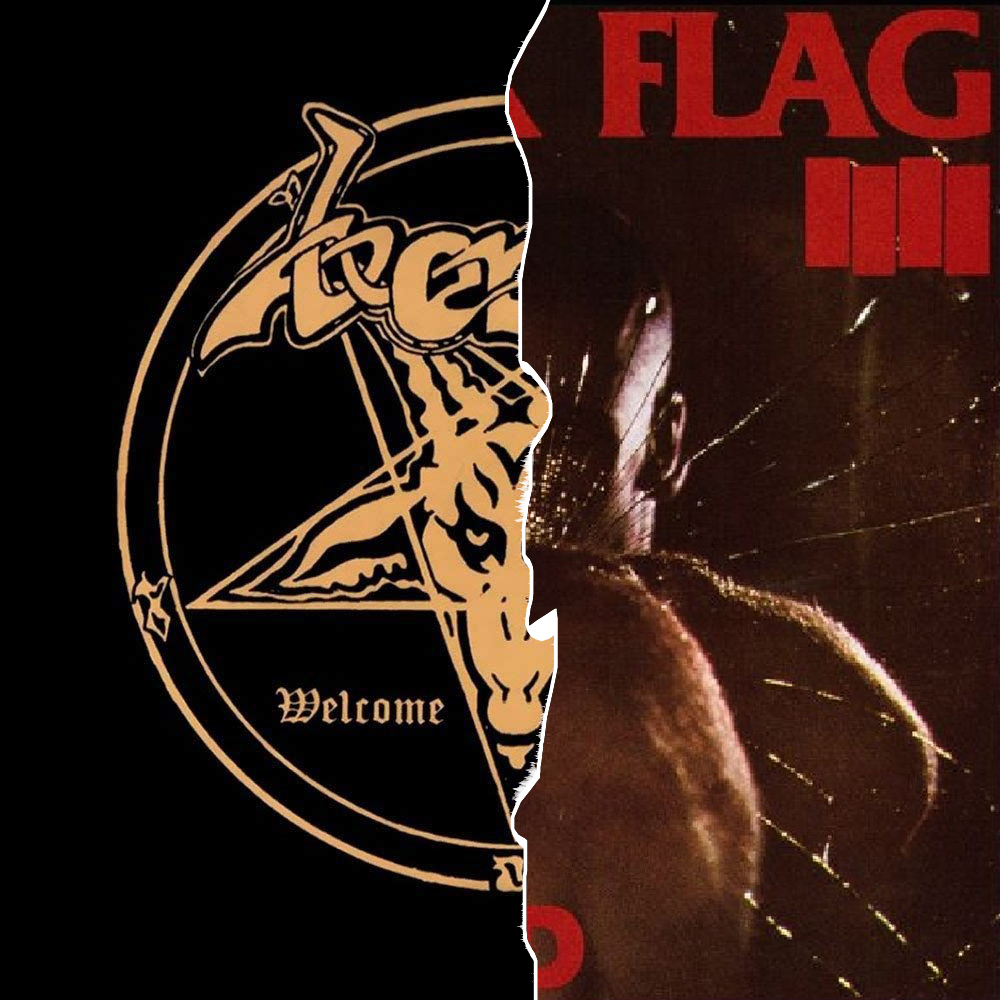 ROOTS Salutes 40 Years of BLACK FLAG's Damaged & VENOM's Welcome to Hell | on SiriusXM
Week of December 11, 2021
Sat 12/11, 6PM ET
Sun 12/12, 1PM ET
Mon 12/13, 9AM ET
Tues 12/14, 4PM ET
Thurs 12/16, 9PM ET
Within a span of a few days in December 1981, Los Angeles hardcore punk fighters Black Flag and Newcastle, England, satanic metal cabal Venom both released debut albums that would inspire and shape all metal and punk to come. Join us for a wild celebration of the raw birth of hardcore, thrash metal, black metal, and death metal with plenty of tracks by Black Flag and Venom plus tributes by Lemmy, Slayer, Sodom, Cavalera Conspiracy, Corey Taylor, Evil Dead, Exhumed, Saint Vitus, and more. We're gonna have a witching hour party tonight —know your Roots!
Visit the vast vaults of heavy metal and hardcore punk history—including WE GOT POWER! with contributions by four members of Black Flag, and several books stemming from Venom including SWEDISH DEATH METAL and CHOOSING DEATH—at BAZILLION POINTS BOOKS.
PLAYLIST:
BLACK FLAG – "Spray Paint the Walls" from DAMAGED
BLACK FLAG – "Police Story" from DAMAGED
PIG DESTROYER – "Depression" from BOOK BURNER
EVIL DEAD – "Rise Above" from RISE ABOVE EP
COREY TAYLOR AND ROLLINS BAND – "Room 13" from RISE ABOVE – WEST MEMPHIS THREE
BLACK FLAG – "TV Party" from DAMANGED
CAVALERA CONSPIRACY – "Six Pack" from BLUNT FORCE TRAUMA
SAINT VITUS – "Thirsty and Miserable" from BORN TOO LATE
BLACK FLAG – "Damaged" from DAMAGED
VENOM – "In League With Satan" from WELCOME TO HELL
BELIALED – "Welcome to Hell" from IN HONOUR OF VENOM
OPTHALAMAMIA – "Sons of Satan" from A LONG JOURNEY
SLAYER – "Witching Hour" from LIVE INTRUSION
EXHUMED – "Schizo" from PLATTERS OF SPLATTER
SODOM – "Angel Dust" from GET WHAT YOU DESERVE
VENOM – "One Thousand Days in Sodom" from WELCOME TO HELL
VENOM – "Live Like an Angel, Die Like a Devil" from WELCOME TO HELL
LEMMY – "Thirsty and Miserable" from DAMAGE CASE
Roots is Sound of the Beast author Ian Christe's heavy metal history show on Sirius XM Liquid Metal channel 40. Since June 2004, each weekly show has examined another subgenre, band, movement, country, or theme. The show is available on-demand online from SiriusXM.com.