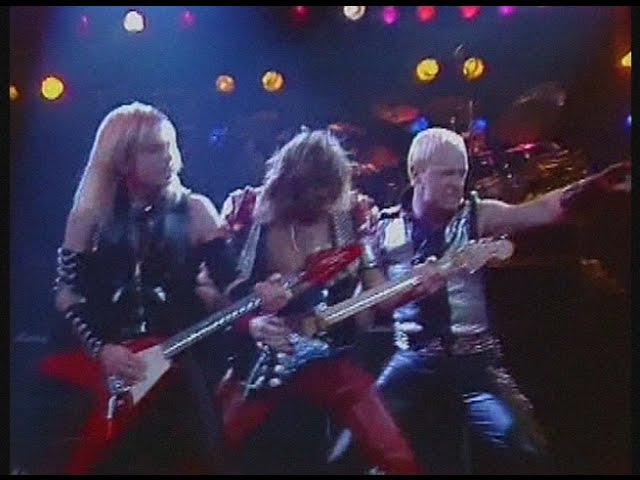 ROOTS of Metal Multi-Guitar Harmony | on SiriusXM
Week of January 22, 2022
Sat 1/22, 6PM ET
Sun 1/23, 1PM ET
Mon 1/24, 9AM ET
Tues 1/25, 4PM ET
Thurs 1/27, 9PM ET
At the start of 2022, Judas Priest announced that their upcoming 50th anniversary tour would be completed as a four-piece with one guitar player. The responding public outcry and outrage brought a change of heart, and just a few days later the band reverted to its historic two-guitar configuration. Join us today as we trace the evolution of metal guitar harmony from its origins with Judas Priest, Thin Lizzy, and Iron Maiden; into the thrash era with Testament and Slayer; then beyond in the hands of Death, Dissection, At the Gates, Mastodon, and more. Come lock into one of the bedrock elements that makes all metal roar. Know your Roots!
Make your own path into metal history at BAZILLION POINTS BOOKS.
PLAYLIST:
DEATH – "Crystal Mountain" from SYMBOLIC
THIN LIZZY – "We Will Be Strong" from CHINATOWN
JUDAS PRIEST – "The Ripper" from UNLEASHED IN THE EAST
IRON MAIDEN – "Aces High" from POWERSLAVE
TESTAMENT – "The Haunting" from FIRST STRIKE STILL DEADLY
TROUBLE – "Revelation (Life or Death)" from PSALM 9
SLAYER – "South of Heaven" from SOUTH OF HEAVEN
DISSECTION – "The Somberlain" from THE SOMBERLAIN
AT THE GATES – "Terminal Spirit Disease" from TERMINAL SPIRIT DISEASE
MASTODON – "Blasteroid" from THE HUNTER
CARCASS – "Noncompliance to ASTM F899-12 Standard" from SURGICAL STEEL
DRAGONFORCE – "Defenders feat. Matt Heafy" from MAXIMUM OVERLOAD
Roots is Sound of the Beast author Ian Christe's heavy metal history show on Sirius XM Liquid Metal channel 40. Since June 2004, each weekly show has examined another subgenre, band, movement, country, or theme. The show is available on-demand online from SiriusXM.com.