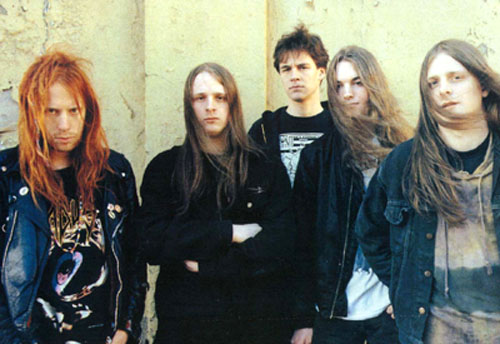 ROOTS of MELODIC DEATH METAL | on SiriusXM
Week of December 3, 2022
Sat 12/3, 6PM ET
Sun 12/4, 1PM ET
Mon 12/5, 9AM ET
Tues 12/6, 4PM ET
Thurs 12/8, 9PM ET
Join Roots this week and uncover the 1990s death metal bands that combined raw, extreme music with a rediscovery of classic heavy metal melody. Tracks by Soilwork, In Flames, At the Gates, Dark Tranquillity, Carcass, plus more recent developments by Insomnium, Arch Enemy, and The Black Dahlia Murder. Know Your Roots!
Discover 100 more melodic death metal bands in the band directory section of SWEDISH DEATH METAL.
PLAYLIST:
CARCASS – "Heartwork" from HEARTWORK
AT THE GATES – "The Swarm" from TERMINAL SPIRIT DISEASE
IN FLAMES – "The Jester Race" from THE JESTER RACE
DARK TRANQUILLITY – "The Gallery" from THE GALLERY
SOILWORK – "Steelbath Suicide" from STEELBATH SUICIDE
DEATH – "Crystal Mountain" from SYMBOLIC
THE CROWN – "Crowned In Terror" from CROWNED IN TERROR
ARCH ENEMY – "Yesterday Is Dead And Gone" from KHAOS LEGIONS
MORS PRICIPIUM EST – "The Animal Within" from LIBERATION = TERMINATION
INSOMNIUM – "Against the Stream" from ACROSS THE DARK
THE BLACK DAHLIA MURDER – "Removal of the Oaken Stake" from VERMINOUS
DISSECTION – "Black Horizons" from THE SOMBERLAIN
Roots is Sound of the Beast author Ian Christe's heavy metal history show on Sirius XM Liquid Metal channel 40. Since June 2004, each weekly show has examined another subgenre, band, movement, country, or theme. The show is available on-demand online from SiriusXM.com.