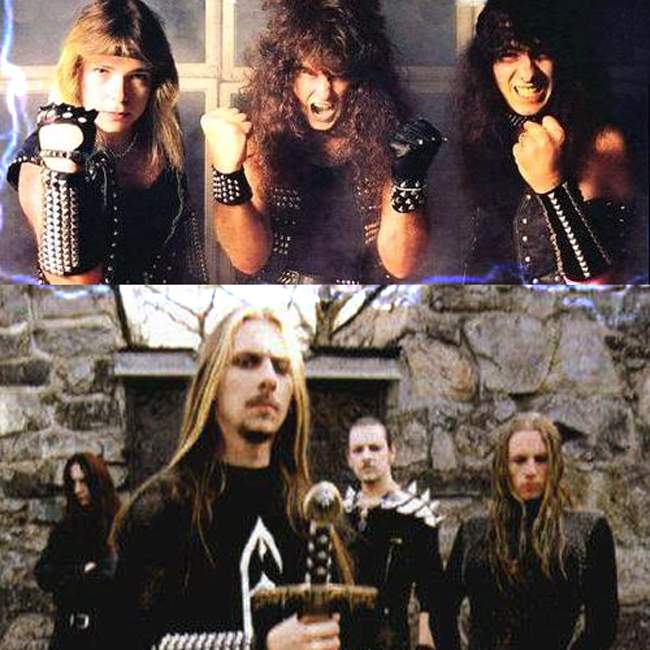 ROOTS Metal Creator Series | EXCITER & EMPEROR | on SiriusXM
Week of June 17, 2023
Sat 6/17, 6PM ET
Sun 6/18, 1PM ET
Mon 6/19, 9AM ET
Tues 6/20, 4PM ET
Thurs 6/22, 9PM ET
This week two influential metal creators fall into the Roots forge: First, we celebrate 40 years of the influential Heavy Metal Maniac debut by Ottawa, Canada's EXCITER. Then we travel to Norway to explore the raw magnificence of black metal greats EMPEROR. Host Ian Christe puts the Ex-citer and Em-porer in Sirius-ex-em… only on ROOTS!
Check out the history of Exciter and Emperor and hundreds of others in SOUND OF THE BEAST: The Complete Headbanging History of Heavy Metal, by Ian Christe
PLAYLIST:
EXCITER – "Heavy Metal Maniac" from HEAVY METAL MANIAC
EXCITER – "Under Attack" from HEAVY METAL MANIAC
OCTOBER 31 – "Stand up and Fight" from POUNDING METAL
GATEKEEPER – "Victims of Sacrifice" from POUNDING METAL
ATTACKER – "Cry of the Banshee" from POUNDING METAL TRIBUTE TO EXCITER
EXCITER – "Iron Dogs" from HEAVY METAL MANIAC
EMPEROR – "Into the Infinity of Thoughts" from IN THE NIGHTSIDE ECLIPSE
EMPEROR – "Night of the Graveless Souls" from EMPEROR
EMPEROR – "The Loss and Curse of Reverence" from WACKEN 2006
ZYKLON – "Psyklon Aeon" from AEON
EMPEROR – "Thorns on My Grave" from PROMETHEUS: THE DISCIPLINE OF FIRE & DEMISE
Roots is Sound of the Beast author Ian Christe's heavy metal history show on Sirius XM Liquid Metal channel 40. Since June 2004, each weekly show has examined another subgenre, band, movement, country, or theme. The show is available on-demand online from SiriusXM.com.