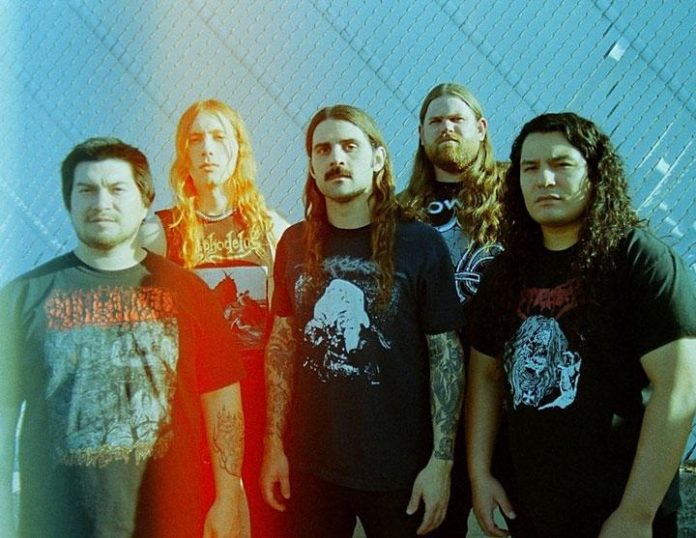 ROOTS of Post-2020 Death Metal Rising | on SiriusXM
Week of September 2, 2023
Sat 9/2, 6PM ET
Sun 9/3, 1PM ET
Mon 9/4, 9AM ET
Tues 9/5, 4PM ET
Thurs 9/7, 9PM ET
Death metal has proven to be one of metal's most durable variants, and we ravage some fresh graves this week with a survey of newcomers that have made their marks during the past decade. Join us for a joyously rotten hour of brutality and outrage from the likes of Tomb Mold, Horrendous, Gruesome, Gatecreeper (pictured), Undeath, Blood Incantation, Frozen Soul, 200 Stab Wounds, Sanguisuggabog, and more. Know your bloody, bloody Roots!
Study the authentic evolution of death metal this semester in books like Swedish Death Metal, Choosing Death, Sound of the Beast, Only Death Is Real, United Forces, and many more at BAZILLION POINTS Books.
PLAYLIST:
HORRENDOUS – "Resonator" from ECDYSIS
TOMB MOLD – "Bereavement of Flesh" from PRIMORDIAL MALIGNITY
GRAVE MIASMA – "Rogyapa" from ABYSS OF WRATHFUL DEITIES
200 STAB WOUNDS – "Tow Rope Around the Throat" from SLAVE TO THE SCALPEL
GATECREEPER – "Flamethrower" from SONORAN DEPRIVATION
SANGUISUGGABOG – "Face Ripped Off" from HOMICIDAL ECSTASY
GRUESOME – "Savage Land" from SAVAGE LAND
BLOOD INCANTATION – "Starspawn" from STARSPAWN
DEAD CONGREGATION – "Seperpentskin" from PROMULGATION OF THE FALL
CREEPING DEATH – "The Edge of Existence" from THE EDGE OF EXISTENCE
FROZEN SOUL – "Encased in Ice" from CRYPT OF ICE
UNDEATH – "Lord of the Grave" from LESIONS OF A DIFFERENT KIND
VALLENFYRE – Cathedrals Of Dread from A FRAGILE KING
LIK – "Funeral Anthem" from MISANTHROPIC BREED
Roots is Sound of the Beast author Ian Christe's heavy metal history show on Sirius XM Liquid Metal channel 40. Since June 2004, each weekly show has examined another subgenre, band, movement, country, or theme. The show is available on-demand online from SiriusXM.com.