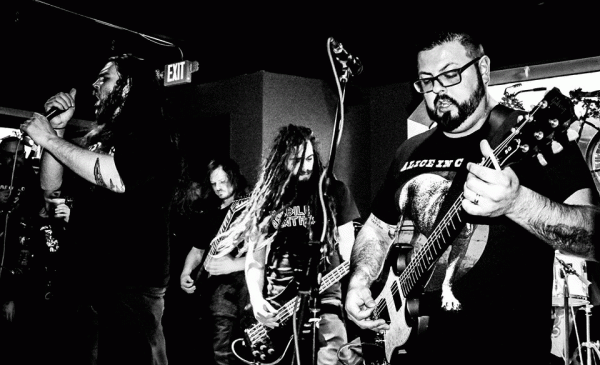 ROOTS of Crossover's Crushing 21st Century Comeback | on SiriusXM
Week of September 30, 2023
Sat 9/30, 6PM ET
Sun 10/1, 1PM ET
Mon 10/2, 9AM ET
Tues 10/3 4PM ET
Thurs 10/5, 9PM ET
photo: Plague Years publicity photo
Roots admires the current-day explosion of crossover hardcore/metal bands from around the globe with a packed blast of dive bombs, mosh parts, and roars from Power Trip, Iron Reagan, Plague Years, Fugitive, Judiciary, High Command, Enforced, Red Death, and more. Know your Roots!
How punk and metal finally come together to form crossover? Read SOUND OF THE BEAST: The Complete Headbanging History of Heavy Metal, by Ian Christe and KNOW YOUR ROOTS!.
PLAYLIST
POWER TRIP – "Nightmare Logic" from NIGHTMARE LOGIC
CRUMBSUCKERS – "Trapped" from LIFE OF DREAMS
IRON REAGAN – "Crossover Ministry" from CROSSOVER MINISTRY
RED DEATH – "Ruinous Wrath" from PERMANENT EXILE
DEAD HEAT – "Last Rites" from CERTAIN DEATH
FINAL FORM – "Final Form" from DEMO MMXXI
ENFORCED – "Tresspasser" from KILL GRID
LOWEST CREATURE – "Breach of Peace" from SACRILEGEOUS PAIN
PLAGUE YEARS – "Paradox of Death" from CIRCLE OF DARKNESS
JUDICIARY – "Social Crusade" from SURFACE NOISE
HIGH COMMAND – "Eclipse of the Dual Moons" from ECLIPSE OF THE DUAL MOONS
NOSEDIVE – "Altered State" from ORIGINAL AGONY
OVERPOWER – "Overpower" from OVERPOWER
DRAIN – "Feel the Pressure" from CALIFORNIA CURSED
PERSECUTION MANIA – "The Void" from DEMO 2019
RAIN OF SALVATION – "The Sound of Triumph" from IN TIMES OF DESPERATION
ASIDHARA – "Elysian Chill" from KILLING RITES EP
FUGITIVE – "Maniac" from MANIAC
Roots is Sound of the Beast author Ian Christe's heavy metal history show on Sirius XM Liquid Metal channel 40. Since June 2004, each weekly show has examined another subgenre, band, movement, country, or theme. The show is available on-demand online from SiriusXM.com.