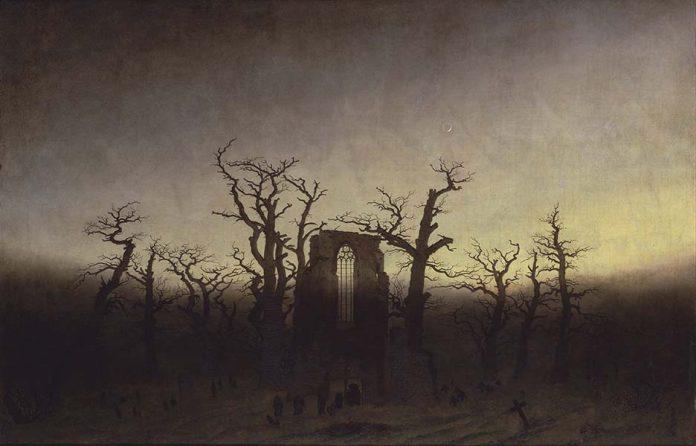 ROOTS Explores Metal's Most Cursed Haunted Houses | on SiriusXM
Week of October 7, 2023
Sat 10/7, 6PM ET
Sun 10/8, 1PM ET
Mon 10/9, 9AM ET
Tues 10/10 4PM ET
Thurs 10/12, 9PM ET
art: The Abbey in the Oakwood, by Caspar David Friedrich
Halloween season 2023 begins with an expedition through the landmarks of horror and evil. Join our tour of the most cursed haunted locations in metal songs by King Diamond, Hallows Eve, Slayer, Acid Witch, Candlemass, Testament, Mortician, Dimmu Borgir, Gutted, Hooded Menace, and more!
Let us tell you tales of terror… Read the metal legends at  BAZILLION POINTS BOOKS and KNOW YOUR ROOTS!.
PLAYLIST
WASTED – "The Haunted House" from THE HAUNTED HOUSE
KING DIAMOND – "A Mansion in Darkness" from LIVE AT THE FILLMORE
HALLOWS EVE – "The Mansion" from TALES OF TERROR
SLAYER – "Haunting the Chapel" from HAUNTING THE CHAPEL
ACID WITCH – "Witch House" from WITCH HOUSE
CANDLEMASS – "House of Doom" from THE DOOR TO DOOM
GOBLIN HOVEL – "Horrors of the Library" from WHATEVER KEEPS THE LIGHTS ON
TESTAMENT – "The Haunting" from DARK ROOTS OF THRASH
DEATHTOPIA – "The House With the Laughing Windows" from BEYOND THE DEATH
LEGION OF THE DAMNED – "House of Possession" from CULT OF THE DEAD
MORTICIAN – "House by the Cemetery" from HOUSE BY THE CEMETERY
DIMMU BORGIR – "Mourning Palace" from ENTHRONE DARKNESS TRIUMPHANT
GUTTED – "This Haunted House" from A PATH TO RUIN
HOODED MENACE – "The House of Hammer" from NEVER CROSS THE DEVIL
Roots is Sound of the Beast author Ian Christe's heavy metal history show on Sirius XM Liquid Metal channel 40. Since June 2004, each weekly show has examined another subgenre, band, movement, country, or theme. The show is available on-demand online from SiriusXM.com.