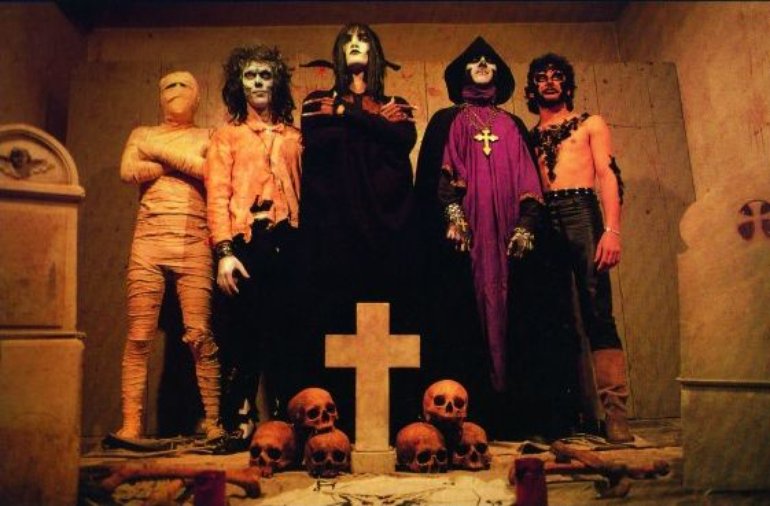 ROOTS of Italian Horror Metal | on SiriusXM
Week of October 14, 2023
Sat 10/14, 6PM ET
Sun 10/15, 1PM ET
Mon 10/16, 9AM ET
Tues 10/17, 4PM ET
Thurs 10/19, 9PM ET
Roots and chill your flesh this week as we invoke the arcane and melodramatic aura and drama of Italian horror metal bands Cadaveria, Fleshgod Apocalypse, Death SS, Paul Chain Violet Theatre, Aborym, Black Hole, Forgotten Tomb, and Gravesite. Also on cue: eerie soundtrack offerings by Goblin and maestro Fabio Frizzi. Conosci il magnifico orrore delle radici sanguinose!
Read how an Italian horror film inspired the band Black Sabbath and cloaked heavy metal in supernatural power in SOUND OF THE BEAST: The Complete Headbanging History of Heavy Metal, by Roots host Ian Christe.
PLAYLIST:
CADAVERIA – "Death Vision" from HORROR METAL
PAUL CHAIN VIOLET THEATRE – "Voyage to Hell" from DETACHING FROM SATAN
BULLDOZER – "Insurrection of the Living Damned" from DAY OF WRATH
BLACK HOLE – "Demoniac City" from LAND OF MYSTERY
GOBLIN – "Zombi" from ZOMBI
DEATH SS – "Profanation" from ALL THE COLORS OF THE DARK
FORGOTTEN TOMB – "Iris' House Pt. I" from NIHILISTIC ESTRANGEMENT
ABORYM "psychogrotesque IV" from PSYCHOGROTESQUE
DEATHLESS LEGACY – "Rituals of Black Magic" from RITUALS OF BLACK MAGIC
FABIO FRIZZI – "Zombie" from ZOMBIE
GRAVESITE – "Obsessed by the Macabre" from OBSESSED BY THE MACABRE DEMO
FLESHGOD APOCALYPSE – "Monnalisa" from VELENO
Roots is Sound of the Beast author and Bazillion Points publisher Ian Christe's heavy metal history show on Sirius XM Liquid Metal channel 40. Launched in June 2004, each weekly show has examined another subgenre, band, movement, country, or theme in metal, punk, and heavy rock. Past episodes are available on-demand online from SiriusXM.com.