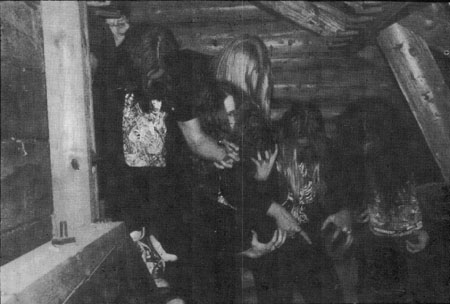 The index of Daniel Ekeroth's Swedish Death Metal explodes with droves of high quality bands that ended up disappearing into relative obscurity, outnumbered  by titans like Entombed, Dismember, and Unleashed. Here's another great example. MACABRE END only released one demo and an EP, but they sounded like seasoned veterans. They knew how to write great blood-drenched lyrics… and they totally nailed the art of posing for metal band photos.
From the book: "This good old death metal band in pure Swedish style started in December 1988 in Vålberg, under another name that I have forgotten. The initial grindcore style changed towards death metal during 1989, and in February 1990 they became Macabre End. They recorded a 7" and planned to record an EP called Suppurationfor Relapse, but nothing came of it. In late 1991 Johansson (who edited Suppuration Zine) left the band, and the others continued as God Macabre. Raw and pure death metal of good quality."
Feed your taste for the macabre, with a copy of SWEDISH DEATH METAL post haste!